Energy Education
Energy Kids
Energy Kids features more than 100 pages of fun educational content, including: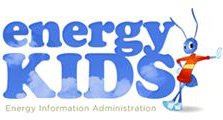 Learn More » http://tonto.eia.doe.gov/kids/
Facts on Fuel
Supply, Demand, Prices and other hot topics from America's Oil and Natural Gas industry.

» Did You Know?
70% of the nation's goods are transported in diesel-powered vehicles, helping to make it America's primary commercial fuel.
Learn More » www.factsonfuel.org
Energy Information Administration
Official Energy Statistics from the U.S. Government

» Find Out:
Who are the major suppliers the world oil market?
How much renewable energy do we use?
How dependent are we on foreign oil?
Learn More » www.eia.doe.gov
Provides public institutions and businesses with environmentally sound projects that increase energy efficiency and reduce energy costs.


How Gasoline Works
What is gasoline? Where does it come from?

» Did You Know?
The octane rating of gasoline tells you how much the fuel can be compressed before it spontaneously ignites.
Learn More » science.howstuffworks.com/gasoline.htm
How Oil Refining Works
Examines the chemistry and technology involved in refining crude oil into petroleum products.

» Find Out:
How is it possible to start with crude oil and end up with gasoline, crayons, plastics and more?
Learn More » www.howstuffworks.com/oil-refining.htm
How Gas Prices Work
Explores the forces that impact the price of gas at the pump, and explains where your gas money actually goes.

» Did You Know?
Almost half the oil consumed by the United States is used for motor gasoline.
Learn More » www.howstuffworks.com/gas-price.htm
How much power does the world consume?
World power consumption rates and sustainability options

» Did You Know?
The use of fossil fuels in developing countries has quadrupled since 1970.
Learn More » science.howstuffworks.com/world-power-consumptionl.htm


Share of Energy Consumed by
Major Sectors of the Economy
Image courtesy of eia.doe.gov




Key Terms
Lubricants
A substance (often a liquid) introduced between two moving surfaces to reduce the friction between them, improving efficiency and reducing wear. One of the single largest applications for lubricants, in the form of motor oil, is to protect the internal combustion engines in motor vehicles and powered equipment.
[ en.wikipedia.org/wiki/Lubricant ]
Hydraulic Fluid
The medium by which power is transferred in hydraulic machinery. Examples of equipment that might use hydraulic fluids include excavators, brakes, power steering systems, transmissions, and industrial machinery.
[ en.wikipedia.org/wiki/Hydraulic_fluid ]