About Senter Petroleum, Inc.
Senter Petroleum is the fuel products distributor on the Island of Kauai. For over 25 years, Senter Petroleum has provided quality lubricants and fuels to Kauai's commercial customers.
Our fleet of transport trucks and dedicated employees provide dependable, timely delivery of these products on a daily basis to all types of businesses. From small farms to the largest businesses, Senter Petroleum keeps Kauai running.
Lubricants & Fueling Products
At our Lihue warehouse, we maintain a complete inventory of lubricants and products for the multitude of equipment being utilized on our island, providing what you need when you need it.
Waste Oil Disposal Facility
Senter Petroleum operates the only licensed used oil recovery facility on the island to allow disposal of our customers' waste oil.
Is Our Bulk Fuels Service Right for You?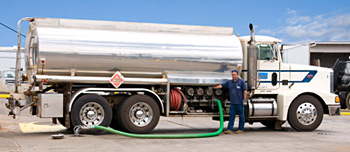 Our fleet of modern fuel tankers provides fast and timely delivery of Diesel and Gasoline to Kauai's commercial, farming and industrial users.
Senter Petroleum, Inc. delivers fuel directly to your business location Monday through Fridays, filling fuel tanks at your property or job site.